VISIT OF THE SECRETARY GENERAL OF THE ECONOMIC COOPERATION ORGANIZATION TO TURKMENISTAN
During the period of June 28-30, 2021, the Secretary General of the Economic Cooperation Organization (ECO) Dr. Hadi Soleimanpour is on the official visit to Ashgabat.
In the framework of the visit, the ECO Secretary General was received by the President of Turkmenistan Gurbanguly Berdimuhamedov.
Also, the meeting of Dr. Hadi Soleimanpour with the Minister of Foreign Affairs of Turkmenistan Rashid Meredov was held. During the talks, the parties discussed the practical work of ECO in the framework of the chairmanship of Turkmenistan in the Organization in the current year. The key aspects of the Concept developed by the Turkmen side and aimed at the enhancement of ECO's functioning were considered.
Among the priority missions embedded in the given Concept is the development of trade and investment activities of the format's countries, implementation of financial and banking reforms, creation of favorable conditions for the stimulation of free movement of goods and services, as well as the intensification of the work aimed at the establishment of free trade zones. All of this is expected to contribute to the regional economic integration.
The parties noted the importance of the efforts of Turkmenistan on the establishment of new trade, transit and energy routes, in particular with the account of the necessity of maintaining transport sustainability in the period of emergencies.
During the meeting, the significance of strengthening the ECO activities on maintaining energy sustainability and resolving the ecological problems, including the involvement of the renewable energy sources in the key sectors of ECO countries' economies was also underlined.
Rashid Meredov and Hadi Soleimanpour confirmed the importance of expanding the cultural-humanitarian cooperation among the ECO participating states, including the reinforcement of contacts in the area of science, education and sport. The need to strengthen collaboration between the countries on carrying out the scientific-research work for combatting the pandemic was stated.
While chairing the ECO, Turkmenistan also intends to continue the facilitation of the advancement of cooperation between the countries of the given format on sustaining the food security, as well as the agricultural development.
Being the immediate neighbor of the Islamic Republic of Afghanistan, Turkmenistan also calls for strengthening the collaboration on assisting the socio-economic restoration of this country and is assured of the effectiveness of applying the ECO mechanisms in this regard.
Also, the Turkmen side aims to continue the arrangement of expert meetings within the ECO and prepares to host the 15th Summit of the Economic Cooperation Organization on November 28 – on the ECO Day.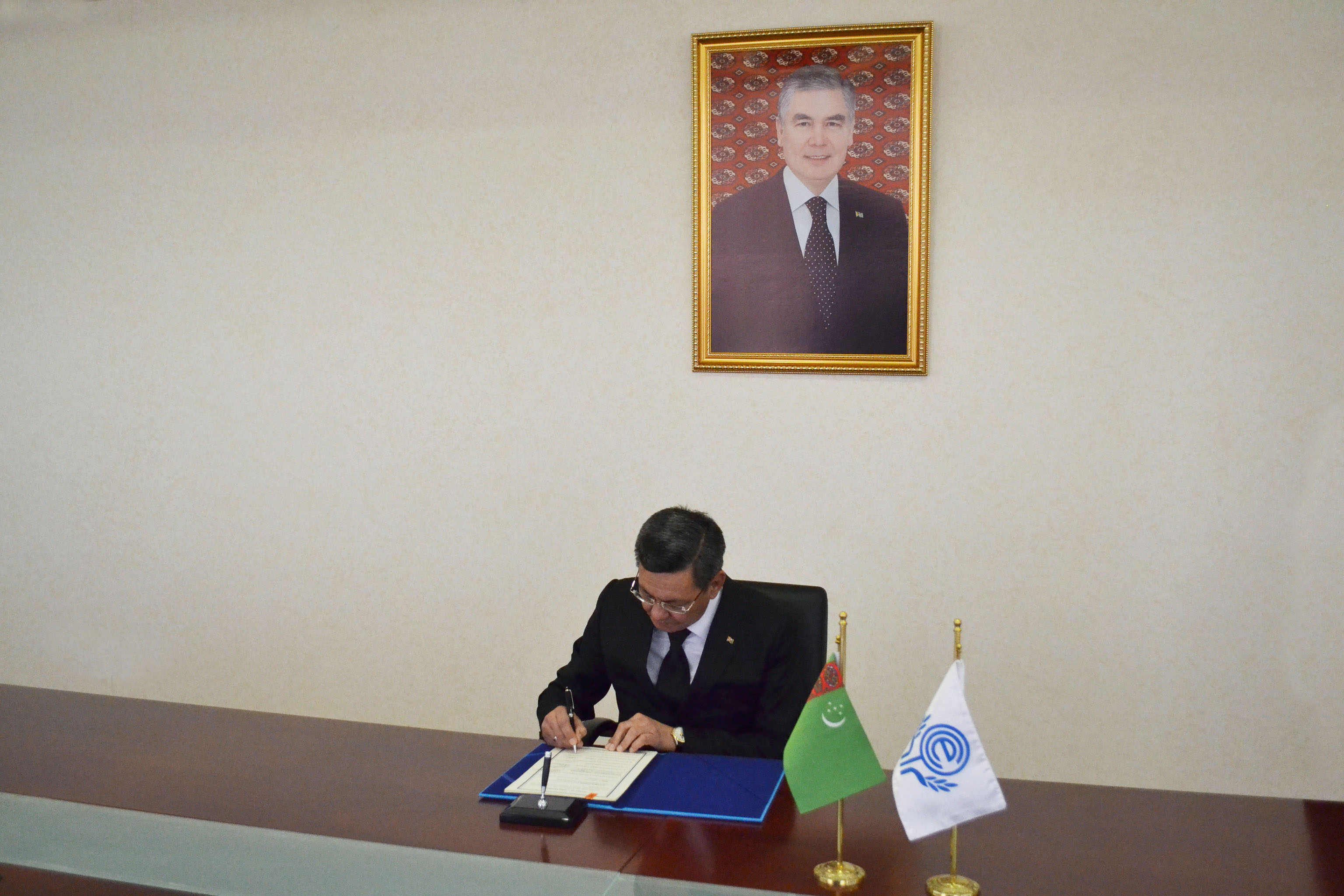 The meeting of the Minister of Foreign Affairs of Turkmenistan and the ECO Secretary General was marked by Turkmenistan's joining the Economic Cooperation Organization Trade Agreement. The relevant document was signed by the Minister of Trade and Foreign Economic Relations of Turkmenistan O.Gurbannazarov.